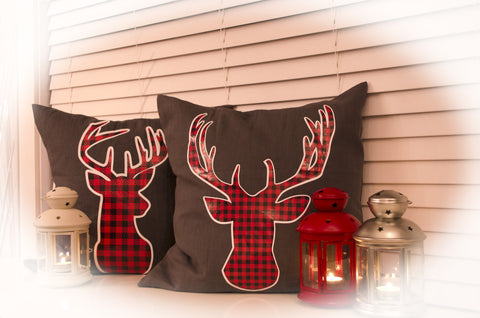 Deer Heads Decals - Heat Transfer Vinyl (HTV)
These deer head decals have a black and red Buffalo Plaid fill and are printed on Siser ColourPrint PU Heat Transfer Vinyl (HTV).  They have a 1/4 inch white border and are already cut.  All that is left for you is to press them on your pillow covers.  Each decal measures approximately 16 inches high; a perfect fit for 20"x20" pillows. 
Please allow at least 3 days for processing when you order these products.
Application Instructions
Preheat your fabric for 2 to 3 seconds at 295F/146C.  Position your design on the shirt leaving the mask on and place your Teflon sheet, parchment paper or multi-purpose paper over the mask.  Use medium pressure and press for 15 to 20 seconds. 
---
We Also Recommend