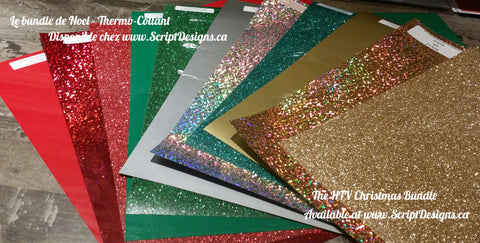 The Christmas HTV Bundle
Save 15% ($5.75) on this bundle worth $38.25 at regular price.  Our gift to you for the Holidays.
You get 10 sheets of the following Siser products - from left to right.  The sizes indicated are for the single sheet bundle.  The double sheet size bundle will have sheets of 15x24 and 12x20.  
- EasyWeed Stretch Red - 12x15
- EasyWeed Stretch Green - 12x15
- EasyWeed Stretch Silver - 12x15
- EasyWeed Stretch Gold - 12x15
- Holographic Red - 12x10
- Holographic Silver - 12x10
- Holographic Gold - 12x10
- Glitter Grass Green - 12x10
- Glitter Emerald - 12x10
- Glitter Old Gold - 12x10
---
We Also Recommend